Welcome to Breakfast
Today we have three delicious recipes we want to share with you.What's a better day than starting the day with some warm waffles or maybe a French omelette and finally some soft blueberry muffins.YUM!!!
WAFFLE LOVEP>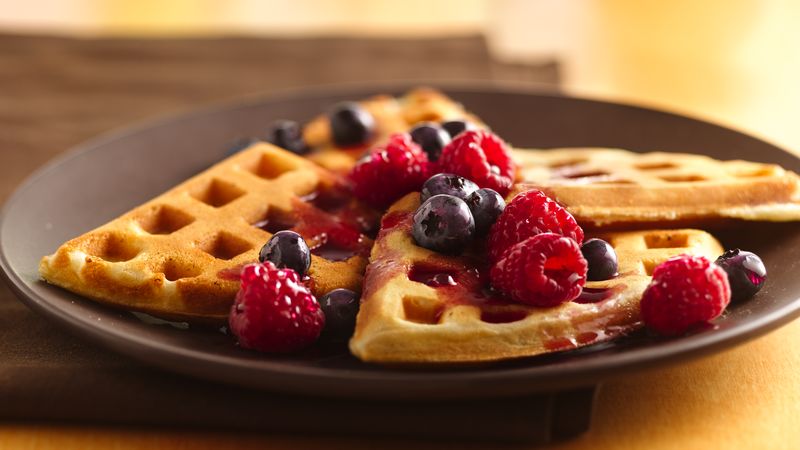 Ingredients
3/4 cup whole milk, scalded and cooled to warm milk
2 tablespoons water, warmed
1 1/2 teaspoons sugar
2 teaspoons instant yeast
2 large eggs, lightly whisked
1 cup unsalted butter, softened
3 tablespoons honey
3 tablespoons white sugar
3 teaspoons vanilla
2 cups bread flour
1 1/2-1 3/4 cups flour
2 cups Belgian pearl sugar/or any sugar
DIRECTIONS
Add the 1 1/2 teaspoons of sugar to the milk and water and add the yeast, stirring to combine. allow the yeast to proof, or get foamy and puffy.
Then in a large bowl, beat together the butter and sugars. add the eggs, honey and vanilla. stir together and add the yeast mixture. place in a standing mixer with the dough hook and add 2 cups of flour. mix until the dough is thoroughly incorporated, and add the remaining flour, cover with plastic wrap and allow to rest for up to 4 hours on the counter
See notes for allowing to rest in the fridge overnight.(You can let the dough rest for up to 24 hours covered with plastic wrap in the fridge. The dough will need to sit on the counter and come back to room temperature to use.Need to skimp on the rise time? no biggie, though you will lose some of that awesome flavor.)
then punch down and knead in the pearl sugar.
Separate into 8 to 10 balls and place on a hot, greased waffle iron.
Cook until golden brown and serve with biscoff, whipped cream and fresh berries.
French Omelette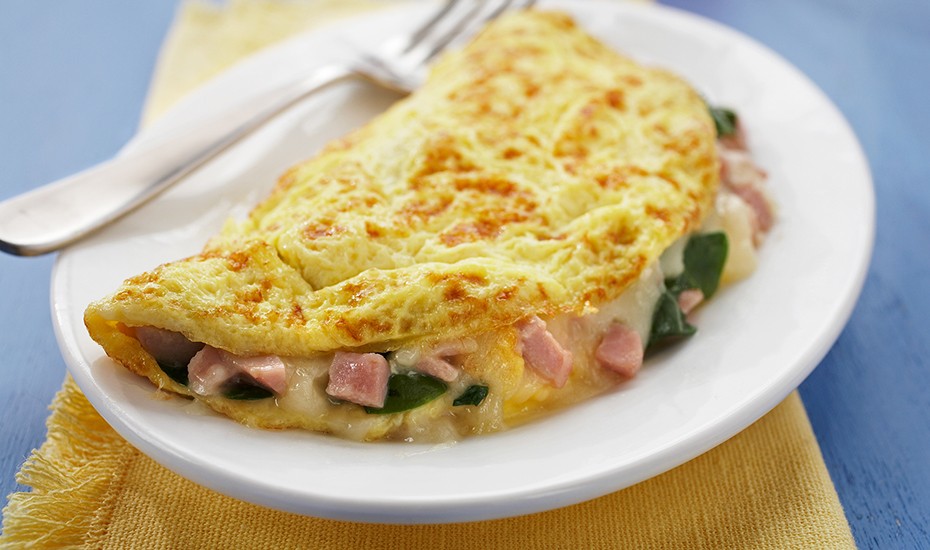 Ingredients
2 eggs
2 tbsp. salt
dash of pepper
1 tsp. butter
1/3 filling,such as shredded cheese,chooped ham(these are the toppings that go inside the omelet, put what you like)
DIRECTIONS
BEAT eggs, water, salt and pepper in small bowl until blended.
HEAT butter in 6 to 8-inch nonstick omelet pan or skillet over medium-high heat until hot. TILT pan to coat bottom. POUR IN egg mixture. Mixture should set immediately at edges.
GENTLY PUSH cooked portions from edges toward the center with inverted turner so that uncooked eggs can reach the hot pan surface. CONTINUE cooking, tilting pan and gently moving cooked portions as needed.
When top surface of eggs is thickened and no visible liquid egg remains, PLACE filling on one side of the omelet. FOLD omelet in half with turner. With a quick flip of the wrist, turn pan and INVERT or SLIDE omelet onto plate. SERVE immediately.
Blueberry Muffins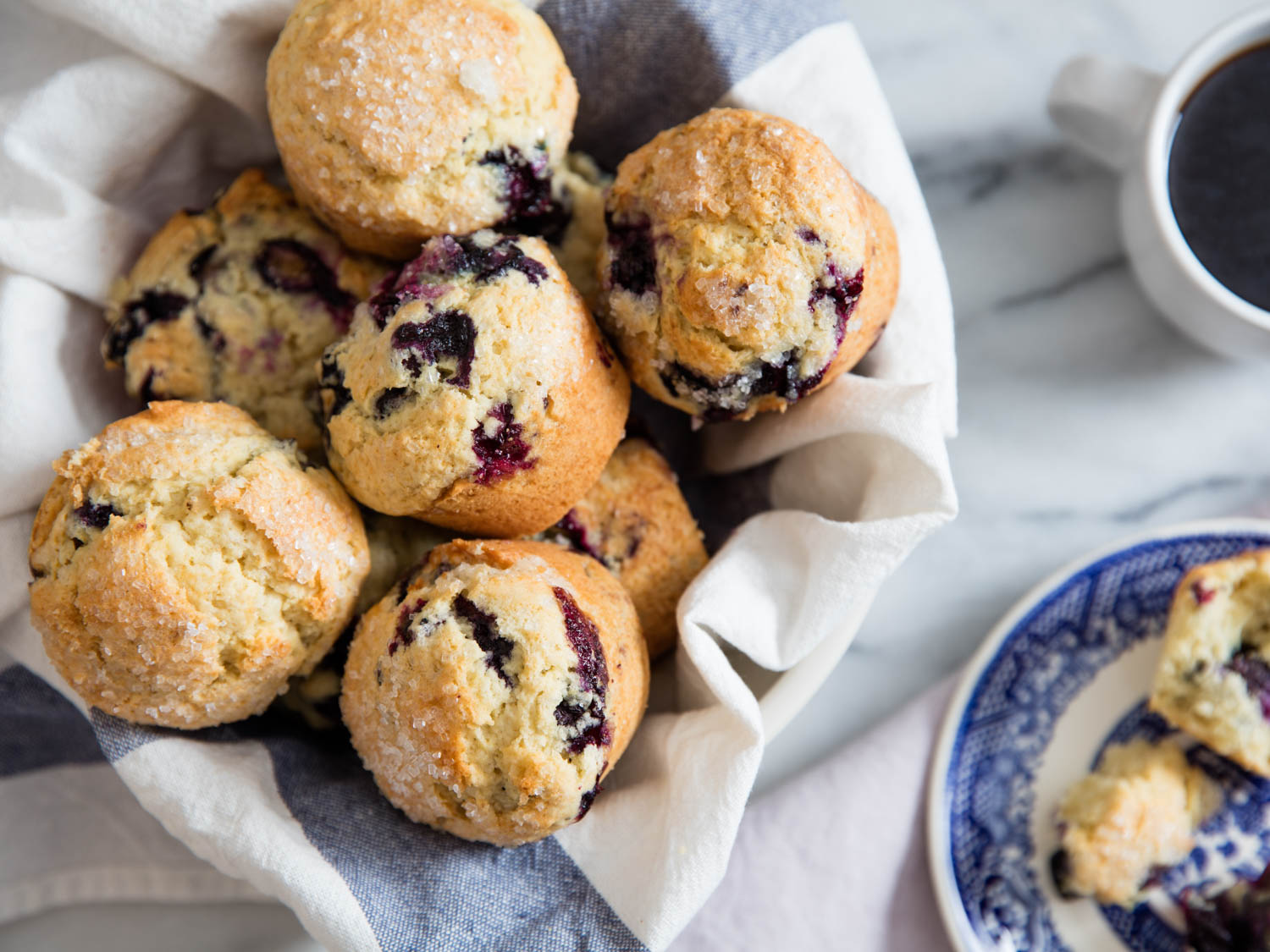 Ingredients
1 1/2 cups (195 grams) all-purpose flour
3/4 cup (150 grams) granulated sugar
1 tablespoon for muffin tops
1/2 teaspoon kosher salt
2 teaspoons baking powder
1/3 cup (80 ml) neutral flavored oil; canola, vegetable and grape seed are great
1 large egg
1/3 – 1/2 cup (80 ml – 120 ml) milk; dairy and non-dairy both work
1 1/2 teaspoons vanilla extract
6 to 8 ounces fresh or frozen blueberries; see note below about frozen berries (about 1 cup)
DIRECTIONS
:Heat oven to 400 degrees F. For big-topped muffins, line 8 standard-size muffin cups with paper liners. For standard-size muffins line 10 muffin cups. Fill the remaining cups with 1 to 2 tablespoons of water to help the muffins bake evenly.
Whisk the flour, sugar, baking powder, and salt in a large bowl.
Add oil to a measuring jug that holds at least 1 cup. Add the egg then fill the jug to the 1-cup line with milk (1/3 to 1/2 cup milk). Add vanilla and whisk to combine.
Add milk mixture to the bowl with dry ingredients then use a fork to combine. Do not over mix. (The muffin batter will be quite thick — see note below for more details). Fold in the blueberries.
Divide the batter between muffin cups. (If making big-topped muffins, the batter will come to the tops of the paper liners). Sprinkle a little sugar on top of each muffin.
Bake muffins 15 to 20 minutes or until tops are no longer wet and a toothpick inserted into the middle of a muffin comes out with crumbs, not wet batter. Transfer to a cooling rack.
To store, place them in a plastic bag, seal, and store at room temperature for 2 to 3 days. To freeze, wrap them tightly in aluminum foil or place them in freezer bags. Freeze for up to 3 months.
HomePage
Breakfast
Dessert